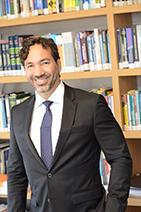 MAURÍCIO PESSOA – PARTNER FOUNDER
mauricio@pessoaadvogados.com.br
Labor Lawyer with more than 20 years of intense experience in ligation on all judicial levels.
Diploma in Law from The Catholic University of Salvador (Universidade Católica de Salvador – UcSal) in 1996.
Obtained a Masters in Civil Procedural law from PUC in São Paulo and attended the Doctorate program (PUC) in the same subject matter.
Author of "Embargos de declaração: teoria e prática" which was published by Saraiva and has had varies other publications throughout the years. 
Member of The Brazilian Institute of Processual Law (IBDP) at the São Paulo Lawyers Association and the São Paulo Labor Lawyers Association. 
Former Professor of Civil Procedure at FAAP. 
Placed in the second-tier Labor Law ranking (consultation and litigation) in Chambers and Partners as well as in The Legal 500 and Latin Lawyer 250. 
Member of the XL Selection Board for Labor Judge of the second region of TRT in 2015. 
Member of the Ethics and Discipline Board of the São Paulo Bar Association from 2010 to 2012.